History of Lissivigeen National School
Hedgeschools
There is a long tradition of education in the Lissivigeen area, indeed it goes all the way back to the days of the 'Hedgeschools' which provided an education to Catholic children during the time when the Penal Laws were in force in Ireland.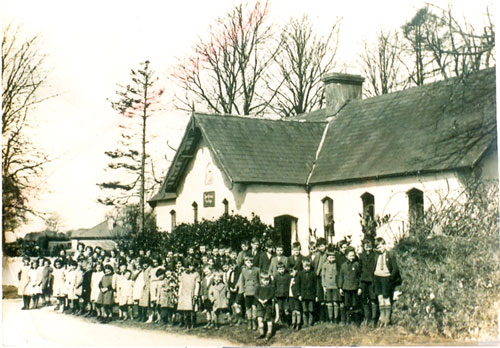 There were two 'hedgeschools' in our area, one down in the oak woods in Pat Kennedy's farm in Minish and the other in Ballaugh. The last teacher to teach in Minish was a man by the name of Murphy and the last teacher in Ballaugh was a man called the 'Racer' Daly. One of his pupils, a man called Patrick Horan went on to be a teacher himself and when Lissivigeen School was opened he became an assistant teacher and taught there until he retired in 1898.
First official school
In 1861 the first official school was built at Lissivigeen cross, just across the road from the present school. This school was built by Lord Kenmane who was the Landlord for this area at the time. On the original roll book from 1861 it states that the internal dimensions were 27 feet by 20 feet. There were seven desks 12 feet long and 2 desks 11 feet long and there were 140 pupils! This school was used to educate the children of the area for the next 107 years.
The first principal of Lissivigeen N.S. was a man called Peter Fleming. Peter and his wife, Margaret, had eleven children. Their eldest daughter Sarah married a young teacher named James Patrick O'Reilly. When Peter and Margaret died within a week of each other from fever in 1876 their son-in-law James became the second principal.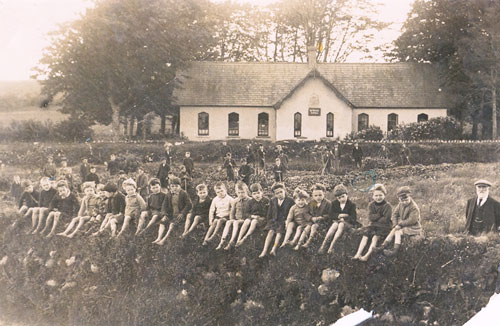 James and Sarah had fifteen children and Sarah still managed to teach as well. One of their sons, James O'Reilly went on to become the third principal of Lissivigeen N.S. in 1910. During his principalship his sister Aileen was principal of the girls side of the school and another sister, Anna-Grace also taught in the school.
Amalgamation
In 1931, the boys and girls sides of the school were amalgamated. James P. O'Reilly retired in 1952 bringing an end to an unusaul family dynasty that lasted from 1861 to 1952. Tadgh O'Sullivan was appointed the fourth Principal of Lissivigeen N.S. in 1952. As well as being a great teacher Tadgh was also a top class footballer who played for Wicklow, Dublin and Kerry. He was one of the founding members of the local Spa G.A.A. Club and was chairman of this club for many years.
Building of new school
In 1968 a new school was built across the road from the old school and this was built as a four- teacher school. In 1978, Bernadette Noonan was appointed the fifth Principal of Lissivigeen School. During this time the numbers grew and in 2005 there were 11 teachers and about 200 pupils working out of a four teacher school.! In 2005 Lissivigeen School moved to Brú na Páirce in Killarney town to facilitate the complete refurbishment of the school. €2.2 million was spent on the project and in September 2006 we moved back into a 'state of the art' school with 8 classrooms, 2 resource rooms, a library/computer room, P.E. hall and an all weather football pitch. So we now have a very modern building with great facilities.
In June 2007 Mrs. Noonan retired and Michael McAuliffe took over as the 6th Principal of Lissivigeen N.S. On the occasion of the official opening of the refurbished school by Bishop William Murphy in June 2007, Maureen O'Reilly, the great grand daughter of the first principal, made a speech which provided us with a fascinating history of Lissvigeen School. Having just 5 Principals in 147 years is very unusual but having someone with a direct link to the first Principal of 1861 making a speech at our official opening was a great honour and provided us with a great connection to the past.
Mr. Conor Gleeson was appointed principal in September 2021 and that brings the history of Lissivigeen up to date. Hopefully this school will continue to provide an excellent education for the children of our locality for a long time to come.